Mekon develop automated publishing for DITA and other XML, producing well-designed PDFs at the press of a button. Our iterative process ensures that you are involved in all critical design decisions, so the output suits your brand and standards whenever you have fresh content to publish.
Mekon approach to stylesheet development
Mekon take a structured, managed approach to the design of automated tools to publish PDF documents from DITA/XML content. This starts with a close working relationship with our clients, to obtain a detailed understanding of their requirements. From this we build a clear and concise statement of work, which is reviewed with the customer and once approved, set as the baseline definition from which an automated styling tool will be developed.
The layout and formatting of documents for publication is often complex, especially if the content includes graphic images, text, tables, font styles and sizes, marked-up notes and footnotes. Organizations often have very specific requirements for features such as:
Front and back matter of documents
Table of Contents
Glossaries
Appendices
Language localization needs
An example Mekon customer stylesheet project involved the publication to PDF of more than 50 separate manuals, printable in A4 and A5 layouts, with the ability to handle multiple styles of front cover, customer branding and images. Varying colours of text and logo were applied depending upon the type of manual.  The manuals incorporated a range of graphics, tables and styles of output including a separate glossary.  Images and tables required options to allow for portrait and landscape orientations to be mixed in the same manual. This required multiple templates to handle the styling involved.  Several iterations of requirements definition were carried out with the customer to ensure that all the necessary details were teased out and incorporated into the statement of work for the project.
Once a statement of work has been agreed with the customer, Mekon begin the process of designing and developing the automated tool to generate the PDF output.  As the standard technology for transforming content, XSLT skills are an essential component of our XML publishing solutions. We use XSLT and XSL-FO, combined with a range of formatting standards including the DITA Open Toolkit to support such functionality as:
Page sizes: US Letter, A4, A5 or customized
High resolution for print
Support for watermarks, crop marks, change bars and change tracking
Multilingual publication support including Chinese, Japanese, Korean, Arabic and Hebrew.
Multi-column, portrait and landscape tables
Integration with client CMS systems to implement publication parameters, conditional processing and enable constraints
The styling tool will be delivered to the customer as a plugin that can be easily deployed and used within their authoring environment.
At this development stage, it is necessary to look at how the integration between the automated tool and the customer content will be handled. Metadata may need to be passed from the customer content management system (CMS) and picked up by the automated tool. One existing Mekon customer uses "role and responsibility" tags to define the target audience for sections of content in a manual. These tags needed to be extracted from the content, recognised by the automated tool, displayed in a specific colour in the PDF output and located in the correct position to define audience-specific sections of the content.

The testing phase of the development process involves feedback with the customer, to agree and signoff a marked up set of pilot output documents. These illustrate how the automatically generated PDF documents are expected to look. The process will include a careful assessment by an assigned Mekon project manager, to determine any areas in the specification that could cause issues for the customer. Examples might be showing the customer how a requirement to change spaces in titles or section numbering can have a ripple effect throughout the rest of a document, impacting the layout elsewhere and the structure of page breaks and alignment of sections. An example of a typical situation is shown below. The Mekon project manager assessed this situation with the customer, considering options available and agreed an appropriate approach to proceed and ensure that the automated plugin developed, was future-proofed to cope with the addition of new sections by including additional space for numbers.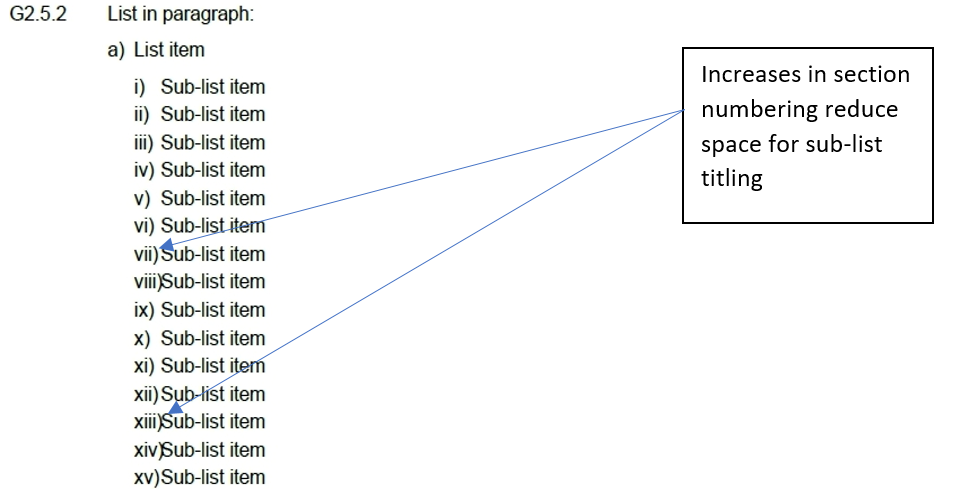 Testing of the Mekon-developed stylesheets is carried out using an Agile approach, initially using the agreed pilot set of marked up output. All snags, updates and changes required are formally recorded and logged using the Mekon online support logging service, which allows customers to log change requests and updates quickly and efficiently.
Mekon stylesheet solutions are fully documented and designed and developed in a robust manner, using best practises, to be maintainable and easy to update and support. We work with clients to establish any specific training needs, which are incorporated into the project schedule.
Mekon stylesheet solutions
We provide the following styling services and products to our customers:
PDF XSLT-based stylesheet development for DITA Open Toolkit environments, supporting publishing software engines such as Antenna House.
PDF XSLT-based stylesheet development for other non-DITA XML environments.
IdXML – InDesign DITA publishing when very high fidelity PDF is required with a need for post-production adjustments.
Full template development for Quadralay WebWorks.
Available support
Mekon offer our customers a cost-effective support and maintenance package for stylesheets. We operate an online support logging service, which allows clients to raise change requests and updates, quickly and efficiently.  Support can be charged against a central support order and applied either to deliver small variations to existing plugins, or against larger projects that require detailed project planning, scope definition, testing and delivery. The choice is with the client. Support required is drawn down from the total number of days purchased and used as required.  Days are invoiced as they are used.
Contact
For further information about any Mekon services please contact