On September 30
th
Mekon joined in the World's Biggest Coffee Morning. Mekon joined the fun and we are pleased to announce that Mekon raised £100 by drinking coffee and eating cake!
The World's Biggest Coffee Morning is Macmillan Cancer Support's biggest fundraising event for people facing cancer which has raised over £7 million so far. People all over the UK have hosted their own Coffee Mornings and all donations on the day are made to Macmillan.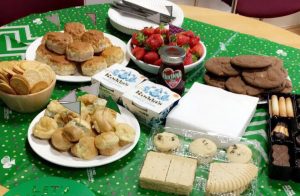 "Cakes in the Kitchen" is a regular feature at Mekon especially around birthdays, so the World's Biggest Coffee Morning was a perfect opportunity to catch up over a cuppa and a slice of something delicious for a great cause.  There was plenty to choose from including:
Stilton and pear choux buns
Tripple chocolate cookies
Scones with clotted cream and strawberries
Shortbread
Whilst they all tasted excellent, Senior Consultant Dave Searle's Stilton and Pear Choux Buns won the prize for the best cake.  It provided plenty of discussion around it's taxonomy as to if it should be categorised as a cake or a desert.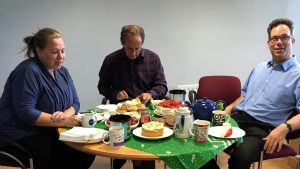 Not only did we taste cakes but we also had to guess how many spots were on a cake. This proved to be a fun activity and it was interesting to see how different people applying different techniques to approach this challenge.  The winner was Project Manager Mike Ewins who used his analytical tool evaluation skills to guess most accurately the number of spots on the cake – well done Mike!