By Joe Pairman, Consulting Lead, Mekon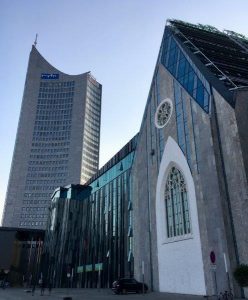 Mekon sponsored and attended the recent Semantics conference in Leipzig, where academics and industry pioneers gathered to share experiences and ideas in semantic computing.
Semantic computing is a family of technologies that provides new ways of accessing and understanding content and data from many sources, whether within an organization or from across the web.
For example, I attended a presentation by the BBC's Jo Kent, who described their rich archive of radio broadcasts that few people used to find or listen to. With a simple subject tag applied to each programme, Jo and her team used data from Wikipedia to automatically create a variety of navigational paths between the programs. From a show about the computing pioneer Ada Lovelace, you could find shows about other 19th-Century women scientists (e.g. Marie Curie), or even other people who were born in 1815! Audiences have responded positively to these serendipitous navigation paths, and they are listening to many more valuable programs from the archive.
In the DITA XML and structured content domains, Mekon have been at the forefront of these new ways of linking and discovering information. At the conference, I presented on the surprising gaps between the taxonomy / semantic computing domain and that of structured content, and demonstrated an innovative approach to link content marketing to product content to better answer users' questions and drive increased sales. I will be presenting on the same theme — including a walkthrough of the demo authoring environment and mockup website — in a forthcoming webinar. Watch this space for details! In the meantime, why not have a look at my slide deck from the conference?
We saw some inspiring presentations from like-minded academics and professionals, both in the main event and in the pre-conference workshops (I attended the Data Quality workshop, which covered ways for normal humans to clean up and work with data from multiple sources, and was far more interesting than it sounds.) One particularly good session was an open discussion in a "fishbowl" format — the speakers were at the center of the room, with the audience surrounding them, and any audience member could enter the fishbowl to contribute ideas or ask questions. In response to a question on obtaining budgets for semantic computing initiatives, the Semantic Web Company's Andreas Blumauer made an observation that struck a chord with me — organizations' IT budgets are often based around specific projects with limited timelines and aims, whereas semantic computing's linking of information across and outside an organization rewards a more long-term, visionary approach to planning.
At Mekon, we often recommend that clients take iterative steps towards the implementation or refinement of new content technologies, to reduce risk and effectively gain understanding. Nevertheless, organizations that get the most out of structured content and taxonomy start by looking at the big picture: the kinds of information that all users need (internal and external), the ways they need to access that information, the architecture and types of tool that can fulfill those needs, and the long-term business case for adopting that architecture. Having helped a great many organizations manage and deliver content more effectively, we are able to offer short consulting engagements that rapidly answer these big questions. Get in touch if you'd like to discuss how we could help!