Eclipse ATA CMP BookBuild
Mekon released Eclipse ATA CMP BookBuild version 1.0 in March 2019.
This application enables users to produce ATA CMP publications conforming to the ATA Spec 1000BR_4.2 Business Rules for Component Maintenance Publications. It can produce PDF files which conform to the ATA S1000D Business Rules.
This is a standalone application but the source Data Modules can be created and edited using the Eclipse S1000D for FrameMaker application which can be configured via preferences to work with the Airbus A350 Business rules.
For more information please click on http://aerospace-defence.com/products/deliver/eclipse-ata-cmp-bookbuild/
XMetaL Author Enterprise version 14.0 – New Features
Below is a list of new features in version 14, which was released March 2019.
The "Workbench" allows you to create and maintain collections of folders and files called "WorkSets" for quick access while you are working in XMetaL. The context menu lets you easily work with these items, similar to the context menu in Windows Explorer.
XMetaL supports editing of Lightweight DITA XML topics and maps. In this preview-level support only XDITA files can be authored, but you can add MDITA and HDITA topics to LwDITA maps, and publish LwDITA maps via DITA OT version 3.2.1.
Many of the user settings and preferences dialogs have been combined into a single hierarchical dialog. The new dialog includes a search/filter box allowing you to quickly find any option setting. XMetaL customizers can add their own settings panels to this unified dialog.
The Find and Replace dialog includes an option to highlight all occurrences of a search term within the current document.
Tracked changes are now visible in DITA-reused content; this can be turned on/off via the Options dialog.
DITA-reused content that contains unaccepted tracked changes inside can be made visible within the target/reusing document's window.
Key spaces that you have associated with individual DITA topics can be remembered across sessions (via a setting in the Options dialog).
This version of XMetaL Author Enterprise includes DITA Open Toolkit Releases 3.2.1, 2.4.4, and 2.0. The default setting is for XMetaL to use DITA OT 3.2.1.
WebWorks Announces the release of ePublisher 2019.1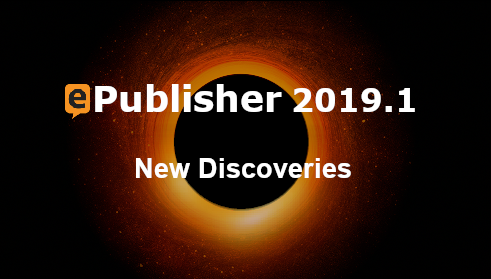 Capture, analyize and discover, this is ePublisher 2019.1. Webworks understands that for documentation to be effective you must understand the needs of your target audience. With ePublisher 2019.1 you will have the right tool get insights on those needs through new discoveries on how they use the documentation you create. ePublisher 2019.1 provides the means to track audience engagement, keyword search reports, helpful topics, and page productivity. ePublisher 2019.1 also gives you the means to customize your output into a secure reliable HTML 5 medium increasing document productivity and value.
Some of the features in this release include:
Advanced Google Analytic Data Collection and reporting
Improved Search and Search results rankings
Generation Speed and Memory performance increases
Enhanced security against XSS hacking attackes and W3C Content Security Policy Compliance
For more information or a free Trail go to ePublisher New Discoveries or contact your Mekon representative at