Subscription Licensing
Mekon has introduced a Subscription Licensing service across the majority of its range of applications.
This is not meant to replace traditional licences, it is simply an extension of the current pricing plan that is becoming more popular.
A subscription licence offers;
reduced upfront cost making it easier to budget,
a simpler process to move licences when you have staff changes or machines are renewed
For more information about this method of Licencing please contact the Aerospace and Defence Sales Department at
Mekon Customer Support Survey
Yes, it's that time of year where we ask you to rate our Customer Support services. Please help us improve the service that we offer you. We often receive very good feedback, but don't be shy to criticise, as we need to know any areas where we need to improve.  The survey will start in early/mid June 2019.
Adobe AEM
Adobe AEM XML Add-on v3.4 due to be released July 2019. Adobe AEM XML Add-on is a newcomer to the DITA CCMS market, but with the backing of one of the most successful software companies, is proving very popular. Many companies already have AEM and the XML Add-on now allows them to easily manage their DITA content.
With a close integration with oXygen XML Author and Adobe FrameMaker, authors and SMEs can work very closely together, improving content re-use and shortening time to market. It supports DITA 1.2 onwards, allows organisations to have their own customised DITA OT outputs and FM users can utilise the FrameMaker Publishing Server.
If you want any more information about this enterprise DITA CCMS, please contact the sales team.
S1000D User Forum & ILS Specification Day – Monday 14th – Thursday 17th October 2019
The annual S1000D User Forum and Integrated Logistic Support (ILS) Specification Day comes to London on Monday 14th – Thursday 17th October 2019.
Through a mix of tutorials, product demonstrations and keynotes from senior industry figures, including Nigel Whitehead, Chief Technology Officer, BAE Systems, the event will bring together some 300 aerospace & defence professionals. This presents the ideal platform for sharing experiences in relation to the development of international specifications.
Hosted by the Aerospace & Defence Industries Association of Europe (ASD) in partnership with the Aerospace Industries Association (AIA) and the Air Transport Association (ATA), the event is organised by ADS.
Where:
The venue address is:
Hilton London Tower Bridge
5 More London Place
Tooley Street, London
SE1 2BY
United Kingdom
For more information, please click on the link. www.adsgroup.org.uk/s1000dlondon
Oxygen Webinars Spring Season 2019
The Oxygen team are excited to announce a new series of webinars for the Spring season!
A webinar, on 22nd May, which will focus on getting started using Oxygen XML Editor/Author from the perspective of a new user.
More details about these events are available here:
https://www.oxygenxml.com/events_programme.html?type=webinar
Eclipse ATA CMP BookBuild
Mekon released Eclipse ATA CMP BookBuild version 1.0 in March 2019.
This application enables users to produce ATA CMP publications conforming to the ATA Spec 1000BR_4.2 Business Rules for Component Maintenance Publications. It can produce PDF files which conform to the ATA S1000D Business Rules.
This is a standalone application but the source Data Modules can be created and edited using the Eclipse S1000D for FrameMaker application which can be configured via preferences to work with the Airbus A350 Business rules.
For more information please click on http://aerospace-defence.com/products/deliver/eclipse-ata-cmp-bookbuild/
XMetaL Author Enterprise version 14.0 – New Features
Below is a list of new features in version 14, which was released March 2019.
The "Workbench" allows you to create and maintain collections of folders and files called "WorkSets" for quick access while you are working in XMetaL. The context menu lets you easily work with these items, similar to the context menu in Windows Explorer.
XMetaL supports editing of Lightweight DITA XML topics and maps. In this preview-level support only XDITA files can be authored, but you can add MDITA and HDITA topics to LwDITA maps, and publish LwDITA maps via DITA OT version 3.2.1.
Many of the user settings and preferences dialogs have been combined into a single hierarchical dialog. The new dialog includes a search/filter box allowing you to quickly find any option setting. XMetaL customizers can add their own settings panels to this unified dialog.
The Find and Replace dialog includes an option to highlight all occurrences of a search term within the current document.
Tracked changes are now visible in DITA-reused content; this can be turned on/off via the Options dialog.
DITA-reused content that contains unaccepted tracked changes inside can be made visible within the target/reusing document's window.
Key spaces that you have associated with individual DITA topics can be remembered across sessions (via a setting in the Options dialog).
This version of XMetaL Author Enterprise includes DITA Open Toolkit Releases 3.2.1, 2.4.4, and 2.0. The default setting is for XMetaL to use DITA OT 3.2.1.
Webworks Announces the release of ePublisher 2019.1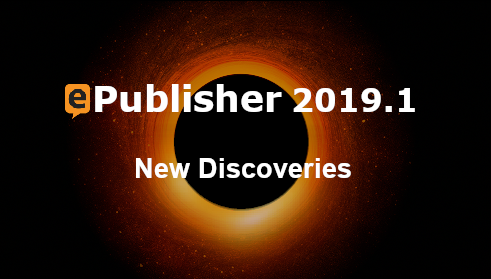 Capture, analyize and discover, this is ePublisher 2019.1. Webworks understands that for documentation to be effective you must understand the needs of your target audience. With ePublisher 2019.1 you will have the right tool get insights on those needs through new discoveries on how they use the documentation you create. ePublisher 2019.1 provides the means to track audience engagement, keyword search reports, helpful topics, and page productivity. ePublisher 2019.1 also gives you the means to customize your output into a secure reliable HTML 5 medium increasing document productivity and value.
Some of the features in this release include:
Advanced Google Analytic Data Collection and reporting
Improved Search and Search results rankings
Generation Speed and Memory performance increases
Enhanced security against XSS hacking attackes and W3C Content Security Policy Compliance
For more information or a free Trail go to ePublisher New Discoveries or contact your Mekon representative at
.
FrameMaker 2019 – PDF Crashing when using Save As PDF
S1000D and iSpec 2200 users may find when printing a document to PDF using Save As PDF, FrameMaker will crash.
The method below should produce a PDF as a temporary work around.
In FrameMaker from the 'File' menu select 'Print.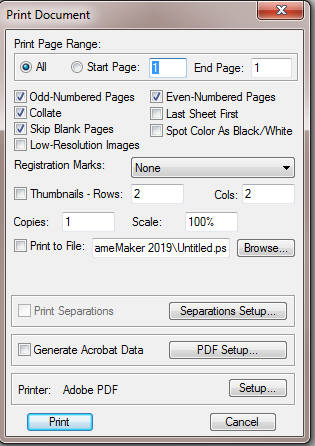 In the 'Print Document' dialog box, the last option at the bottom will show the default printer.
If this isn't "Adobe PDF" then click on the "Setup" button in that field and select the Adobe PDF from the list of printers. (Adobe PDF should be installed as part of FrameMaker).
Select the option 'Generate Acrobat Data' in the section above.
De-select the option 'Print to File' which is about halfway down the dialog.
Click Print.
Shortcuts Keys
FrameMaker Shortcuts keys
Edit > Preferences
Esc + f + P
This only works if you have set your default printer to Adobe PDF from within FrameMaker
File > Print Setup
Change Printer to Adobe PDF and press ok
View Attributes Pod
Esc + E + A
View Elements Pod
Esc + E + V
View Structure Pod
Esc + E + C
Windows Shortcut keys
Here are some popular Windows keyboard shortcuts you may not know about:-
Windows key + E = Open explorer.
Control (Ctrl) + F = Find – will search most applications and browsers for a specific string.
Control (Ctrl) + W = Close down the current application on window on your screen.
Alt + Tab = Switch between windows.
Windows key + M – Minimises all windows.
Windows key + D = Show/hide desktop (alternative to windows key + m).
Windows key + ← = moves Window to the left-hand side of the screen. Really handy if you want to quickly view two windows side by side.
Windows key + → = moves Window to the right-hand side of the screen. Dragging a window to the side of the monitor also achieves this.
Windows key + ↓ = initially reduces Window from full screen to one size down, click again to minimise window
Windows key + ↑ = maximises Window to full screen
This course is a practical introduction for those who will use Simplified Technical English (formerly AECMA Simplified English). The course introduces the philosophy of Simplified Technical English, explains the underlying grammatical principles and gives delegates opportunities to use Simplified Technical English in practical exercises. These exercises can be based on your company's documentation.
Simplified Technical English Specification: ASD-STE100 Training Course
Who should attend this course?
This course is aimed at people who will use ASD Simplified Technical English (Aerospace and Defence Industries Association of Europe). Delegates need to have access to a copy of the current ASD Simplified Technical English Specification ASD-STE100TM guide (supplied by the customer). This can be electronic or paper-based.
Benefits
This course will give you the skills to produce easier to read documentation, making it easier to translate. The language is concise and precise making it easier to use in different formats
Length of course
2 Days
Dates
17th & 18th June 2019
5th & 6th August 2019
Course details http://aerospace-defence.com/services/training/simplified-technical-english-specification-asd-ste100/
DITA Authoring with oxygen AML Author
This course develops essential skills for technical communicators starting with authoring in a DITA environment. It teaches the theoretical principles of both XML and DITA, and how these principles are applied in documentation projects. It provides the foundation knowledge for working with DITA authoring, publishing, and content management software tools. It then enables participants to use oXygen Author productively to create, edit, and manage DITA topics and maps.
Who should attend this course?
Technical communicators who are interested in, or have already started, working in a DITA environment.
Benefits
The course will boost your authoring productivity by giving you a thorough understanding of oXygen XML Author's capabilities.
Length of course
2 Days
Dates
3 – 5th July 2019
Course details https://mekon.com/consulting-and-training/training/dita-authoring-oxygen-xml-author-training/