S1000D and iSpec 2200 users may find when printing a document to PDF using Save As PDF, FrameMaker will crash.
The method below should produce a PDF as a temporary work around.
In FrameMaker from the 'File' menu select 'Print.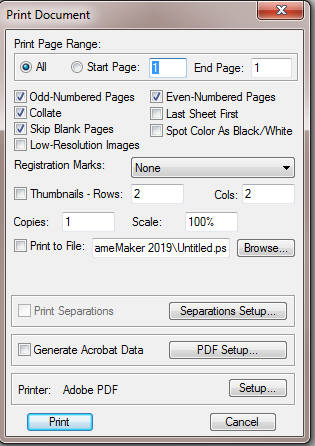 In the 'Print Document' dialog box, the last option at the bottom will show the default printer.
If this isn't "Adobe PDF" then click on the "Setup" button in that field and select the Adobe PDF from the list of printers. (Adobe PDF should be installed as part of FrameMaker).
Select the option 'Generate Acrobat Data' in the section above.
De-select the option 'Print to File' which is about halfway down the dialog.
Click Print.